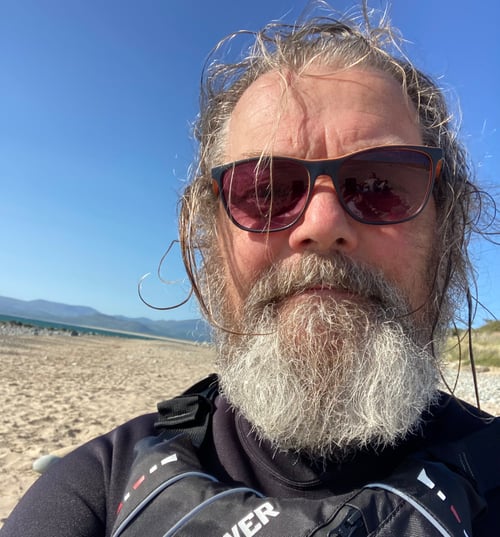 Jameson Selby - Here Be Dragons
Summing up who I am in just a few sentences is hard.
---
My Mum's nickname for me was Butterfly.
I adore the Great Outdoors - Always have done - Wolf Cub, Cub Scout, Scout, Venture Scout and Assistant Venture Scout Leader. Agricultural College.
It's probably the only place I feel truly safe.
Whether it's the Mountains, Summer or Winter; Forests, Rivers, Lakes or the Sea. I Walk, I Climb, I Ski, I Skate, I Swim Wild, I've Paddled. I've Sailed, I learned to ride horses almost before I could walk and taught others how to do all of the above, I've served in the Royal Naval Reserve and I've Scuba Dived.
I have been an Outdoor Activities Coach and Instructor for more years than I care to remember and all that entails.
Led expeditions here and there.
Holder of the Mountain Leader Award since 1995, SPA/RCI Award holder since 1995. Former BCU Senior Instructor - Kayak and 5 star paddler.
Level 2 Cave Leader - I have enjoyed exploring the mines and quarries of North Wales
Not to mention I have a host of other bits of paper attesting to my various other varied and unrelated skills and that's not even the half of it.
I'll have a go at most things.
These days you will often find me down the beach with my paddleboard. As well as all that I am in the process of gaining the NCFE Bushcraft Instructor Level 2 Award. I Sea Fish and Fish on the Fly, too.
One of these days I am going to throw myself out of an Airplane
---
I Garden.
I am into sustainable regenerative horticultural practices and permaculture design ethics. City & Guilds - Landscape and Amenity Horticulture. I am permenantly half way through the Permaculture Design Certificate. I have 3 of my own gardens on the go, all in different stages of disarray. Mostly specialising in fruit. I like to propagate. I am a Father of 4. Living and working in Eryri National Park, North Wales United Kingdom
Half of my life I have been an Instructor, the other half I have spent Injured. Especially the last 20 years.
I am heavily into QiGong as an healing Art; T'ai Ch'i too. My aim, eventually is to become an instructor of these arts too.
Then there are my Guitars....
None of this is surprising when you learn I am Neurospicy.
I like to think that I know what I am talking about. But, then, don't we all.
You are, of course, free to Disagree.
Because - Here Be Dragons
#herebedragons
#OldManOfTheMountains
#StrokeSurvivor
#gettingmywushuon
#1000daysoftaijiqigong
#intheflow
#neurospicy
#ynycoed
"I" is my least favourite word, in spite of the fact that I have used it over 30 times on this page.
The buzz comes from helping other folk develop themselves